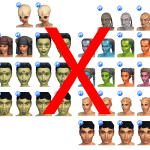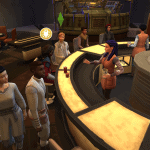 Batuu aliens no terrible face
---
I can't believe… why Batuu's aliens are not a new race? You don't need to wear 'terrible headgear', just be yourself.
This mod will no longer let them wear a headgear and use facepaint when spawning Batuu's aliens except special NPC (e.g. Hondo Ohnaka, Kylo Ren, Vi Moradi, etc.).
Requirements
GP09 Star Wars?: Journey to Batuu
This mod has been tested with game version 1.66.139.
Conflicts
This mod will conflict with any mods that overrides the following files.
S4_0CA4C78B_00000016_000000000003B5F6
S4_0CA4C78B_00000016_000000000003B5FA
S4_0CA4C78B_00000016_000000000003B63F
S4_0CA4C78B_00000016_000000000003B640
S4_0CA4C78B_00000016_000000000003B645
S4_0CA4C78B_00000016_000000000003B646
S4_0CA4C78B_00000016_000000000003B708
S4_0CA4C78B_00000016_000000000003B709
S4_0CA4C78B_00000016_000000000003B70A
S4_0CA4C78B_00000016_000000000003B70B
S4_0CA4C78B_00000016_000000000003B711
S4_0CA4C78B_00000016_000000000003B712
S4_0CA4C78B_00000016_000000000003B713
S4_0CA4C78B_00000016_000000000003B714
S4_0CA4C78B_00000016_000000000003B715
S4_0CA4C78B_00000016_000000000003B716
S4_0CA4C78B_00000016_000000000003B717
S4_0CA4C78B_00000016_000000000003B718
Additional Credits:
S4PE
S4Studio