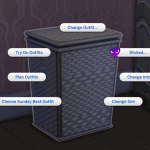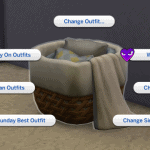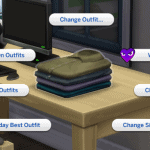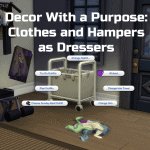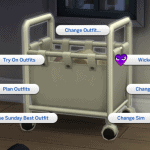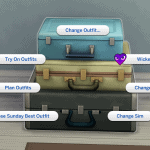 Decor with a Purpose: Clothes and Hampers as Dressers
---
After seeing the hanging clothes as dressers in Dream Home Decorator I decided that these other clothes should function as dressers too. The pile of clothes is perfect for slob sims and the hampers are good for lazy ones! The folded clothes are useful if you don't have a lot of space but want dresser functionality.
UPDATE 8/20:
-Added hampers so your sims can live out of them (like I do). This does not include Laundry Day hampers since they already have a purpose, but it has Basegame, Parenthood, and Eco Living hampers.
-Included a bonus City Living item that isn't technically decor, clothing, or a hamper, but I thought it fit. The suitcase end table is now also a dresser!
-Added options to download by expansion pack. I also renamed some files so if you redownload you can delete the old ones (although it shouldn't cause any problems if you forget)
-There is one more Basegame hamper I want to add but it's giving me trouble so it will come in a future update.
These are overrides that will replace the decor-only versions, but they will continue to appear in all the same categories plus now appearing in the Dressers category. The tuning on most of these is technically custom but it's really just the normal dresser tuning with things that don't make sense removed (like cat scratching). It shouldn't conflict with anything unless you have something else that happens to modify these objects specifically, but please let me know if you have any problems with it.
I've been messing with modding a little for myself for a while, but I've finally decided to put something I made out into the world. I hope other people find it cool and/or useful. I have some other similar things I'm working on to modify default functionality but I'm also open to suggestions!
This is a multi-part download:
You can install all "dressers" with the Merged file, by pack from those files, or just choose the one(s) you want from the Seperate file.