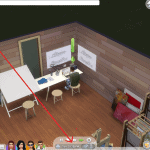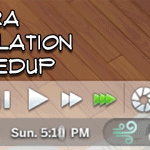 Ultra Simulation SpeedUp – Game Simulation Speed Unlock
---
Version 2.1 ReUpload – fixes minor problem.
Note: I will test this further with MCCC, as for now I'm not having any issue with or without mccc and any other mods. Minor issues are caused by the timeline_clear that I accidentally added and uploaded the wrong file. Sorry for taking sometime to reupload the correct one.
This has been updated and tested for 1.47.49-51 . Thank You for the continues support !! Happy Simming !!
A mod that helps you out to simulate your game If someone is still awake in the middle of the night but, mostly it's your pets who mess you up.
Note
This will work smoothly with simulation lag fix Check Here
This is a standalone mod so it will not conflict to other mods
This is a Pure Script Mod no XML Tuning is used
Installation
1. Unzip the file.
2. Copy the .ts4script file to your mods folder.
3. Run the game.
How To Use
Method 1
1. Press 3 twice to activate the super speed.
2. Press 3 again to deactivate super speed.
Method 2
1. Hit (Ctrl + Shift + C) to open your cheat console.
2. Type "clock.setspeed four" without quote and press enter.