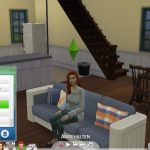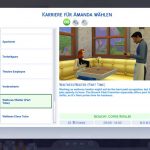 Waiter Career (Part Time)
---
I've created another part time career, that's for all the sim-moms and -dads with children in school-age, but also, university students came across my mind, as it'd be a typical part time occupation.
14/02/2019: Update for Patch 1.49.65.1020!
Patch Version 1.46.18.1020
This custom career mod was created with Neias Create-a-Career Tool Beta, so no chance cards, rewards, or job outfits.
Its a 3 level rabbit hole career, so also no active work in a restaurant from the dine out addon, sorry folks!
Career Details:
Working as waitress/waiter might not be the best paid occupation, but there is jobs aplenty to have. The Brunch Club Franchise especially offers part time day-shifts, as it's their prime time for business.
Level 1: Coffee Refiller 33$/h
Your first task is to provide every guest with as much coffee as he wants – or needs, and restocking the tables with sugar and cute little jugs of milk.
Work: M T W T F – – 9am-2pm
Mood: Happy
Objectives: Charisma 2
Level 2: Tray Carrier 40$/h
Busy like a bee, you're making your way between the kitchen and the tables, taking orders, balancing multiple plates full of deliciousness back to the guests, and cleaning off used dishes. You're doing it with a smile – because thats what you get paid for.
Work: M T W T F – – 9am-2pm
Mood: Happy
Objectives: Charisma 4
Level 3: Receptionist 48$/h
Your new position as Receptionist is a tad less tiring for your feet, but includes more responsibilitys.Your job is to welcome new guests, take reservations by mail or phone, coordinating the assignments of the other waiters on shift, and taking care of complaints from guests.
Work: M T W T F – – 9am-2pm
Mood: Happy
Objectives: –
Career Cheat: (with testingcheats true) careers.promote restaurantwaiter
PTO (Paid Time Off): 0.17 for all levels
As ever, let me know how you like playing with this career.
Basic Download and Install Instructions:
1. Download: Click the File tab to see the download link. Click the link to save the .rar or .zip file(s) to your computer.
2. Extract: Use WinRAR (Windows) to extract the file(s) from the .rar or .zip file(s).
3. Cut and paste the file(s) into your Mods folder
Windows XP: Documents and Settings\(Current User Account)\My Documents\Electronic Arts\The Sims 4\Mods\
Windows Vista/7/8/8.1: Users\(Current User Account)\Documents\Electronic Arts\The Sims 4\Mods\
Need more information?
Anyone can use both .rar and .zip files easily! On Windows, use WinRAR.
If you don't have a Mods folder, just make one.